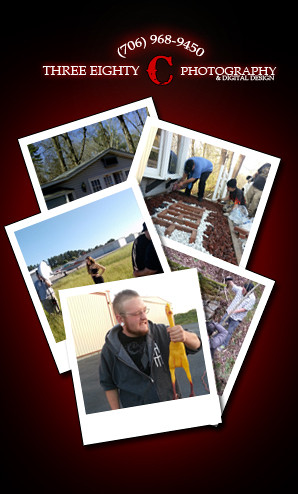 Three Eighty C Photography was developed when the owners Robert Kennell and Zack Moon were paired in tandem for a competition to represent the state of Georgia in a video product development contest in 2012,where they were awarded first in the state of Georgia and they moved onto the national competition where they received second in the nation in video product development. In 2013 this dynamic duo came together again to try for commercial development and again won first in the state of Georgia.

Both Kennell & Moon Studied with North Georgia Technical college in photography.
Kennell graduated in 2013 & will continue with education.
Moon will graduate in late 2013 or early 2014 with an associates in photography.

Kennell & Moon both have very customer oriented mind sets, with a great vision to capture those once in a lifetime moments. From birth to Senior and from fashion to weddings.

Both Moon and Kennell think of life as the fine point where an image meets a work of art. They pride themselves on seeing things in a different light. They both look for that moment when fantasy collides with reality, and they do their very best to capture that moment.

Both believe legends are created when friends, family members and colleges tell the story of something great that has happened. Both Moon and Kennell strive to create legends that star you. Both know that if any one were to see your images they know everyone would have to know how you got them and where.
© Three Eighty C Photography